Episodes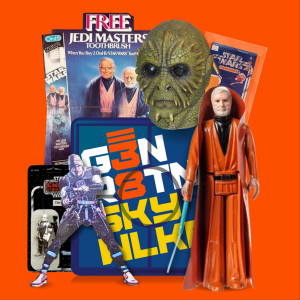 Thursday Jul 07, 2022
Thursday Jul 07, 2022
Those Old Fossils – our vintage collecting show – is here with the first of our Four Figure Focuses.

This month an incredible nine members of the global Star Wars community join Jez, Stu, Dan and Marc Hockley as they delve into: Obi-Wan Kenobi, Dengar, Anakin Skywalker and everyone's favourite peg warmer Klaatu.

Matt George drops in for a brilliant interview on his beloved Ben Kenobi, giving some incredible insights to pre-production collecting. Jez discovers a brilliant Facebook Group dedicated to Klaatu (The Klaatorium – Star Wars Klaatu and Skiff Guard Memorial & Cocktail Lounge) and interviews three of its most enthusiastic members: Paul James, Barry Lewton and Dave Moore.

Ron Salvatore drops in with his brilliant take on Anakin Skywalker and Mark Andrews, Will Mellish and Jamie Acott from Variant Villains give the lowdown on each figure.

Lots of voices, lots of knowledge – all looking at these characters, action figures and the Beyond the Toys items that they inspired. Did we miss anything? Let us know and get involved.